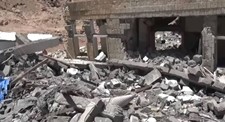 The violations and crimes by Saudi-led coalition in Yemen 31/5/2015
Saada Province: –
Several airstrikes targeted AL-Khafji Public Market and targeted three houses of AL-Sheikh/ Abed Abu Khuthara, the civilians / Habl Nasser Mastour and Hussein Ghazi Hadi and killed 5 civilians, including two women, one pregnant and elderly man his age is over 80 years old and wounded more than (10) others, including a child
Several airstrikes targeted the police station in Saada City and Muthab area, AL-Safra' district.
Four airstrikes targeted the governmental compound in Saada City and destroyed it.
Two airstrikes targeted Haydan district.
They targeted Yemeni Bank for Reconstruction and Development and destroyed it.
They targeted Saada and Sehar court and destroyed it.
More than 30 missiles targeted AL-Hassama and Bani Sayah
One airstrike targeted AL-Hassama area.
They targeted the Literacy Center in the city.
Several airstrikes targeted Al AL-Saifi area.
Several airstrikes targeted AL-Dhaher district.
They targeted AL-Me'ssar breaker in AL-Malaheedh area, AL-Dhaher border
Two airstrikes targeted Bani Sayah area.
They targeted a plant for breakup rocks in AL-Malaheedh area.
Several airstrikes targeted Jayash Public Market.
They targeted AL-Sa'eed Educational Compound and AL-Qurashi Station.
They targeted Sagain Court.
They targeted radio Saada for the first time.
They bombed the building of the Executive Council for the displaced people affairs.