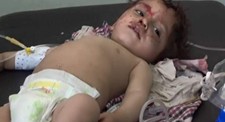 The violations and crimes by Saudi-led coalition in Yemen 21/5/2015
Saada province:
A boy, whose age is (7) years old, was killed and injured 8 others during the bombing of Saudi Arabia warplanes and its alliance on a residential neighborhood in Saada City. They also killed a woman and injured 3 civilians during the artillery bombing on AL-Talh Junction, Sehar district. Furthermore, two civilians were killed with their livestock after the bombing of Razeh district.
Saudi Arabia warplanes and its alliance targeted both: ((AL-Masirah Channel for the third time, AL-Zahra School in Dhahyan and AL-Marwee Village by more than 10 missiles)). They targeted AL-Hassama, AL-Malaheedh and AL-Menzalah areas by (65) missiles. They also targeted Maran, AL-Jahla' areas by (12) missiles and destroyed a civilian's house belonging to /Mohammed Hussein Zahra without casualties.