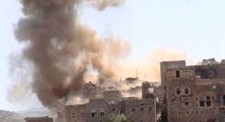 The violations and crimes by Saudi-led coalition in Yemen 16/5/2015
Saada province:
1- Saudi Arabia and its alliance bombed with rocket-propelled grenades (RPGs) AL-Hassama area from AL-Amouood Mountain. They developed new sites in the border areas, which are closed to Razeh and Ghamar border districts. They launched five rockets on AL-Sabba area, AL-Dahaher border district. Ten missiles launched on AL-Hassama area, AL-Dhaher border district. In addition, the Saudi forces and its alliance fired 12 shots of caliber 50 and gunshots from MBC Mountain toward AL-Hassam. The Saudi forces and its alliance bombed by a missile and a tank shell from AL-Dahra area toward AL-Hassama area. Also, they launched two missiles from AL-Amuood Mountain to the behind of the network. Furthermore, they launched five mortar shells (26 BMB) from Alb toward Mandabah area.
2- Intensive flight of Saudi Arabia warplanes, Apache helicopters and two scouting planes on the border areas.
3– Saudi Apache helicopters hit AL-Madahesha area by four missiles. They also hit by two missiles, machine guns and two artillery rockets on 2 farms at AL-Baith AL-Abydh (White House) at the south of Naseem farm and continued the bombing.
4- Spy planes flew over Razeh, Ghamar, and parts of Khawlan.
Aden Province:
Saudi warplanes flew over Aden City.
Lahjj Province:
Saudi warplanes flew over the province.
Shabwa Province:
Spy warplanes flew over the province.
AL-Jawf Province:
Continuous flight of Spy warplanes over the province.