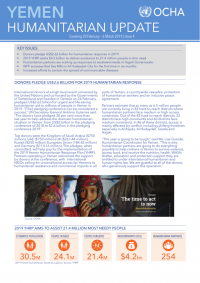 Yemen Humanitarian Update Covering 20 February – 6 March 2019 | Issue 4
Key Issues
• Donors pledge US$2.62 billion for humanitarian response in 2019.
• 2019 YHRP seeks $4.2 billion to deliver assistance to 21.4 million people in dire need.
• Humanitarian partners are scaling up responses to escalated needs in Hajjah Governorate.
• WFP accesses Red Sea Mills in Al Hudaydah City for the first time in six months.
• Increased efforts to contain the spread of communicable diseases.
Donors pledge US$2.6 billion for 2019 humanitarian response
International donors at a high-level event convened by the United Nations and co-hosted by the Governments of Switzerland and Sweden in Geneva on 26 February, pledged US$2.62 billion for urgent and life-saving humanitarian aid to millions of people in Yemen in 2019. "[The] pledging conference can be considered a success," UN Secretary-General António Guterres said. "The donors have pledged 30 per cent more than last year to help address the dramatic humanitarian situation in Yemen: from US$2 billion in the pledging conference of 2018 to $2.6 billion in the pledging conference 2019".
Top donors were the Kingdom of Saudi Arabia ($750 million), UAE ($750 million) UK ($261.44 million), Kuwait ($250 million) European Union (184.42 million) and Germany ($114.16 million). The pledges, when committed, will help pay for the implementation of the 2019 Yemen Humanitarian Response Plan (YHRP).
Partners operating in Yemen welcomed the support by donors at the conference, with international NGOs calling for unconditional access for Yemenis to humanitarian assistance and commercial imports in all parts of Yemen; a countrywide ceasefire, protection of humanitarian workers and an inclusive peace agreement.
Partners estimate that as many as 6.5 million people are currently living in 83 hard-to-reach districts where humanitarian partners face medium or high access constraints. Out of the 83 hard-to-reach districts, 23 districts face high constraints and 60 districts face medium constraints. In 46 of these districts, access is mainly affected by conflict, including shifting frontlines especially in Al Bayda, Al Hudaydah, Sa'ada and Hajjah.
"This year is going to be tough," said Ms. Lise Grande, Humanitarian Coordinator for Yemen. "This is why humanitarian partners are going to do everything possible to help civilians in Yemen to survive violence, access food, and receive the nutrition, health, WASH, shelter, education and protection support they are entitled to under international humanitarian and human rights law. We are grateful to all of the donors who generously support this operation."
https://reliefweb.int/report/yemen/yemen-humanitarian-update-covering-20-february-6-march-2019-issue-4