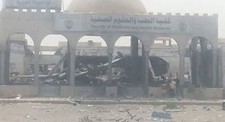 The violations that are committed by Saudi-Led coalition against civilians in Yemen 27-5-2015
((Killed more the (129) civilians including women and children, and injured (415) including women and children and the destruction of mosque, houses and civilian facilities))
Violation date: 27/5/2015
–Time: Over 24 hours
– Place of Violation: 7 provinces.
-Violators: Saudi – led coalition "War on Yemen"
– Type of violation: The warplanes bombed the civilians and killed them; also they destroyed civilian and service facilities.
Casualties and damages:
Sana'a:
(8) airstrikes targeted the headquarter of The Special Security Forces in Hadda area, south of the capital Sana'a and the houses are adjacent to the camp, which led to kill more than 75 civilians and injured 286 others and destroyed some houses where in the neighboring of the camp
Six airstrikes targeted (Al-Nahdain) Mountain.
One airstrike targeted (Al-miah) Street in Al-Hasaba area that led to injure 20 civilians as the result of a preliminary statistic and material damages in homes and commercial shops.
– AL-Hodeida:
1- Four airstrikes targeted the Medical College and health sciences, they killed 9 civilians and 25 injured as preliminary statistics.
Hajja:-
1- Several airstrikes targeted civilians and their houses during the funeral of victims of the former bombing that led to kill 40 civilians and injure 18 others including women and children and destroy 3 houses and damage15 others in (Al-Mazriq) area, (Bakeel Al-Meer) district.
Lahjj: –
1- They targeted the house of Al-Sheikh/ (Ahmed Jareeb) in Al-Kerash area.
1- Several airstrikes targeted Al-Amodi cemetery in the middle center and killed the civilian (Fouad Sabia) and injured 4 others.
Saada: –
1- Several airstrikes targeted civilian houses in the border (Baqem) district, and destroyed many houses and damaged the livestock.
2- Injured 4 civilians during the missile attack on (Razih) district, there are
1- Roqaia Zaid Houssein.
2- Fareed Jabir Awadh.
3- Fatima Houssein Abdoh.
4- Saleh Jabir Yahya.
5-(21) airstrikes targeted (Al-Hosama, Al-Mlaheedh and Wadi Tasher)
– Taiz:
1- Several airstrikes targeted 1 mosque and a public market in (Al-Qubaida) junction in (Al-Raheda) area that led to kill 10 civilians including 5 children and injure 15 others as a preliminary statistic.
2- Five civilians including 1 woman were killed and 4 others were injured during the bombing of Saudi Arabia warplanes and its alliance by several airstrikes on the house of the civilian/ Qassem AL-Rawhani in Thuban area.