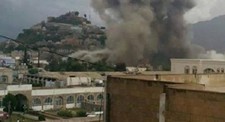 The violations and crimes by Saudi-led coalition in Yemen 29/5/2015
Hajja Province: –
Three airstrikes targeted a residential neighborhood in Hajja City and killed 24 civilians , including 4 women and 6 children, and wounded more than (100).The airstrikes also destroyed 26 houses and damaged 26 others.
Four airstrikes targeted AL-Mansoura Fortify destroyed it partially in Hajja province.
Three airstrikes targeted Kahlah Affar dstrict. Three airstrikes also targeted (Washha) district.
Three airstrikes targeted Al-Numan Archaeological Fortify and destroyed it partially in Hajjah province.