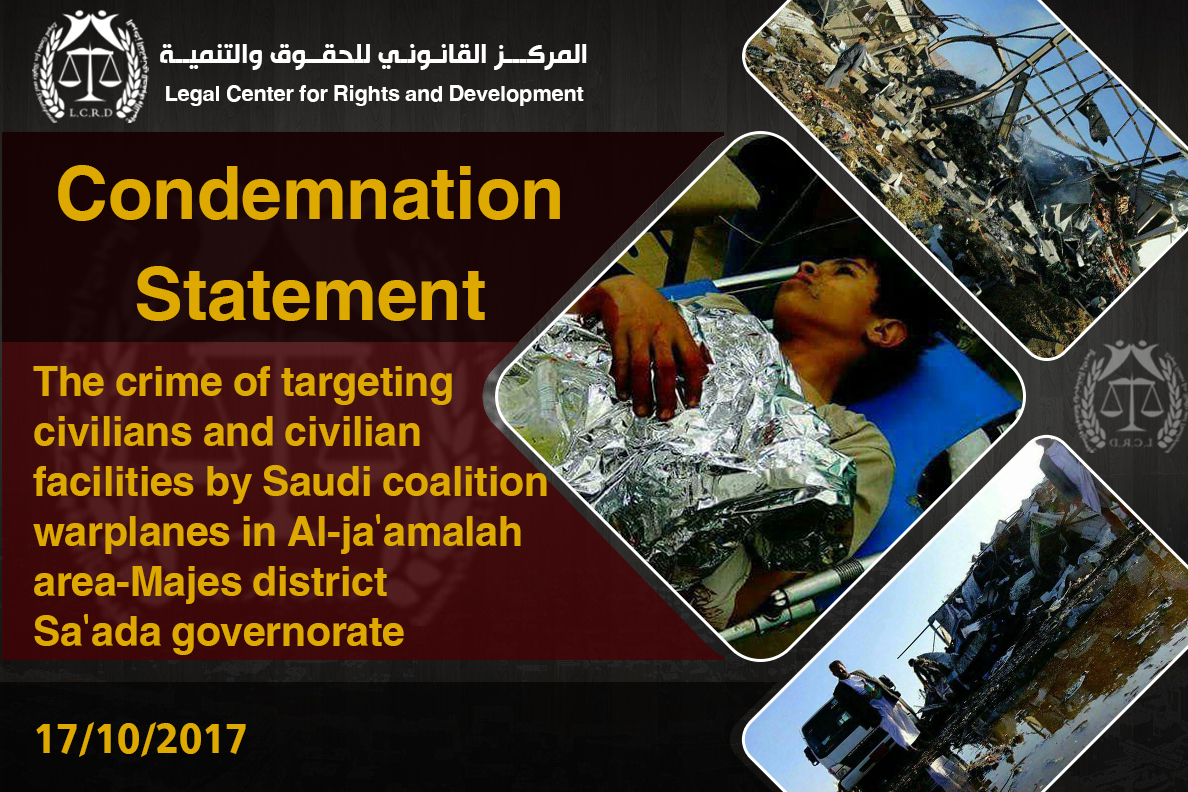 Condemnation Statement of the crime of targeting civilians and civilian facilities by Saudi coalition warplanes in Al-ja'amalah area-Majes district-Sa'ada governorate 17/10/2017
In a horrific crime, Saudi warplanes targeted a refrigerator of cooling pomegranates fruit, in which (3) civilians were killed among them a Syrian citizen and injured(8) civilians among them (6)children and a Syrian citizen too , which is considered  a serious violation of international humanitarian law which criminalizes the killing of children and women and the targeting of civilians' houses, neighborhoods and civilian facilities. The purely civilian nature of the incident place and the number of children victims indicate the violation for the most important principles and rules of war by the Saudi coalition forces such as the principle of humanity, distinction, and proportionality. This crime is an extension of crimes series committed by the Saudi forces and their allies against the Yemeni people. Since the beginning  of the military operation on Yemen, Legal Center has documented the targeting and bombing  of more than(2300) civilian locations resulted in which the killing of more than(12907)civilians and the injuring of more than(21165) civilians.
Legal Center for Rights and Development Condemns and denounces this heinous crime against humanity, and holds Saudi Arabia and its alliance the full responsibility for this crime and the pervious ones  and demands the criminal investigation and accountability of the coalition leaders and all those who prove their involvement in these crimes. The UN and the Security Council also bear responsibility for its shameful silence, which  encourages  Saudi  alliance committing more war crimes against the Yemeni people in brutally way.
legal center renews its appeal to the international community, human rights organizations and all the honorable and free world to intense their moral and humanitarian responsibility in supporting the oppressed Yemeni people, condemning the horrific crimes that are committed by Saudi coalition and pressuring on United Nations specifically Security Council to carry out their legal and moral duty to protect civilians and installations and to stop the war and all forms of aggression against Yemen and its people. We also renew our call for establishing  an impartial international commission of inquiry to investigate all crimes that are committed against Yemeni civilians.
Issued by the Legal Center for Rights and Development on 17/10/2017